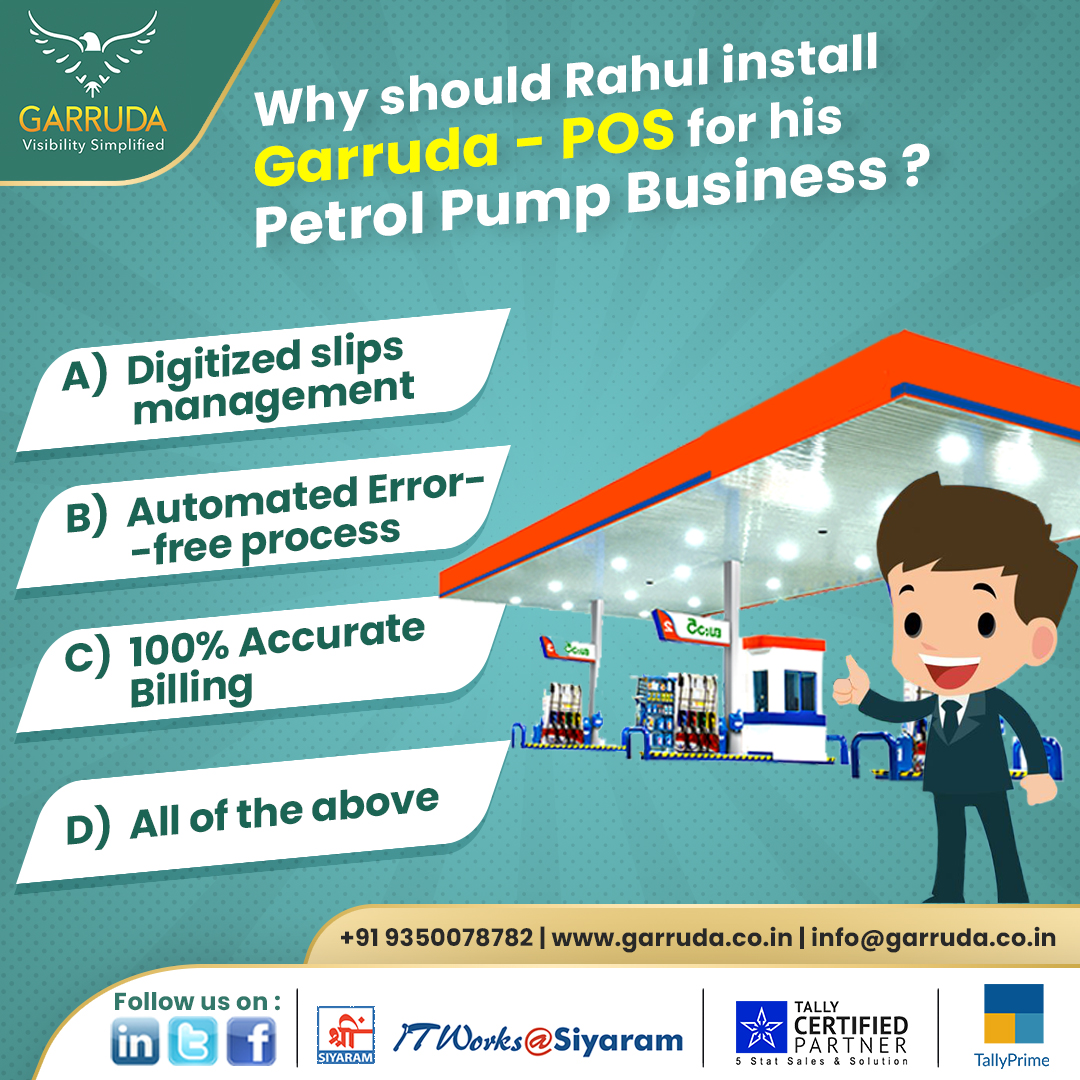 How can installing Garruda- pos benefit your petrol pump business?
If you are a petrol pump owner, you would know the responsibility that comes with managing the entire operation of the business and how tricky and complicated can it get if handled manually considering the complexity that goes into running a Petrol Pump keeping an accurate count of fuel transactions and inventory and simultaneously managing an array of services from fill-ups to payment processing and tracking fuel inflow and outflow. Manually handling this entire operation can be not only extremely arduous and time consuming but also costly. So if you are wondering what can you implement into your Petrol Pump to systematically and expeditiously generate greater revenues and increase sales by reducing errors in inventory count then Garruda- pos is exactly what you need, to accelerate your Petrol Pump Business and upgrade your petrol pump management in a digitized way, a much needed equipment in today's digitally growing landscape. Read more into the blog to find out how installing Garruda-POS can put your Petrol Pump a thousand miles ahead of your competitors.
Automated Petrol pump management
Facing trouble in managing manual operations of your Petrol pump and feeling surrendered to your management responsibilities trying to balance between handling and improving the business? We understand! And thus we bring Garruda-POS to your rescue. Garruda- POS is a point of sale software that succours you to digitally manage all your operations and be fully in control of all the activities involved in running your petrol pump business without having to be physically present at the time and place of need just with a click of a button right under your fingertip! To put in much simpler words Garruda- POS allows you an opportunity to get rid of all manual slips and paper based recording of inventory and yet be able to keep a 100% accurate record of inventory and sales with little or no human intervention leaving no room for error. Yes, that's right! From inventory management to generating bills and invoices and from timely tracking of Fuel outflow to recording of daily sales and managing credit based customers, Garruda-POS is like a partner throughout your Petrol Pump management journey perpetually serving its purpose of making your petrol pump operations fully automated and digitized.
Benefits of Automated Petrol Pump
Shift Management- Manage nozzle readings on final settlement of shifts and keep a control on individual employee opening and closing shifts.
Credit Sales management- Manage end to end process of customer transactions and avail cloud based control over credit limits of you automated managed customers.
Cost Effective- Cloud based Automated petrol pump operations allow you to utilise manpower efficiently and prevent your petrol pump from any sort of error and fraudulent activities.
High-end Data Security
Garruda- POS not only offers high automation but also ensures full data security enabling the Petrol
Pump Owner to keep record of all transactions and control credit based customers without worrying about compromising on any data. 100% transparency in the process of tracking and generating timely invoices is an added benefit allowing Petrol Pump owners to access and understand the software better because of its extremely user-friendly interface. Every credit sale is fully secured using QR code and OTPs for each transaction.
Give your Customers what they want
What do your customers really want? Transaction speed, personalised customer-experience, a timely record of their bills and fuel purchase along with a secured mobile app to have a control on their payments to get back on the road without having to waste a lot of time waiting in queue for a fill-up. Installing Garruda-POS will help you to provide that personalised experience to your customers and be rest assured about an increase in your revenue. We at Garruda clearly understand that the key to your successful Petrol Pump Business is not only to have an automated management software but to be able to also provide your customers a better and upgraded experience on every visit! We have the solution to your petrol pump management problems – Garruda-POS a software to keep your petrol pump business running!
Contact Us