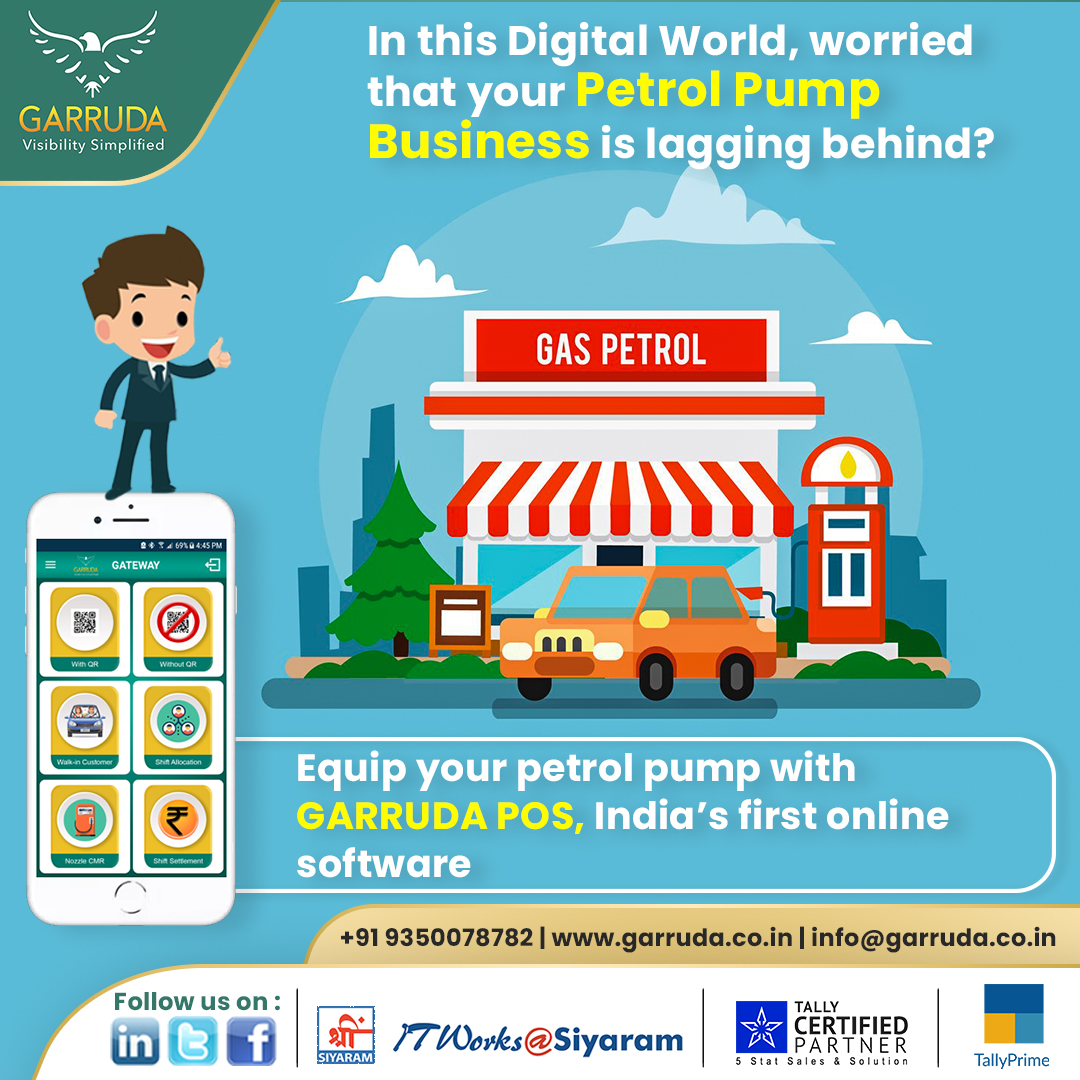 GARRUDA -POS India's 1st Online POS software for petrol pumps
India has been digitizing and adapting to changes around the world building a stronger digital economy through various industries. Petroleum Industry over the years around the world has also flourished more by adopting a digital approach. However, many petrol pump owners in India continue to manage their business operations manually which can be not only time consuming but also very expensive considering the increasing labour cost for each task management. If you are a petrol pump owner reading this blog wondering how can you make your business grow effectively and get rid of all the repetitive processes and manual ways of handling your operations, then we can proudly say that we have a solution right here for you!
GARRUDA-POS – India's first Online POS software for petrol pumps – enables you to control the entire operation of your petrol pump right at a click of a button. It not only allows you to monitor each and every transaction but also keep an accurate check on individual nozzle readings of employee shift opening and closing, which, in other words means – no manual transactions or paper based slips and no repetition or error in any recording or bill generation and a close check on each and every employee on-the-job-duties. Continue to read this blog as we unfold the benefits of GARRUDA-POS software, India's 1st online POS software for petrol pumps.
Automated Fuel Management
Running a petrol pump comes with a lot of responsibilities of managing daily operations, transactions, accounts, inventory, productivity, sales and purchase recordings, bills and invoices. But the most important and obvious responsibility is Fuel Management. Since fuel is the primary product of your business, you need to make sure to have sufficient amount of stock of fuel at your petrol pump. Managing inventory manually can be a bit tricky. To keep a constant and an accurate count of fuel stock along with managing other operations of the petrol pump can be difficult. GARRUDA facilitates managing fuel transactions seamlessly helping you avoid all errors and identify fuel thefts if any. By enabling you to control and monitor fuel inventory GARRUDA also makes it easier to manage fuel optimization and also notifies the petrol pump owner by sending timely alerts of fuel restocking requirements.
Boost Productivity with Garruda
Handling the entire operation of a petrol pump by just relying on human task management can increase the probability of errors, rectification of which is time consuming and prone to more complications. Not being able to manage inventory and credit consumers can also be very taxing and can lead to a considerable amount of loss.  Garruda-POS automates inventory management, data recording, consumer transactions, challan and invoice timely generation and keeping an accurate record of sales ensuring efficient functioning of the petrol pump with better and quicker results with little or no human intervention. This helps you, the petrol pump owner, to concentrate on revenue generation and sales management by building strategies that will help you accelerate your business and boost your productivity while Garruda manages all your operations for you!
Error-Free Billing
Garruda-POS ensures error free billing for both petrol pump owners and their customers allowing you to provide personalised experience to your customers by enabling them to keep an accurate check on their bills and payment transactions without worrying about errors or false payment transactions. Petrol pump owners can fully control their credit customers and access all invoices and bills generated with correct amounts on a day to day basis. Garruda-POS not only ensures error free management of your petrol pump but also guarantees 100% control and security encrypting each and every transaction on bill generation shielding all payment or fuel transactions with QR code and individual OTP access. Integrated with Tall ERP.9, Garruda –POS also aids in mapping your business operations with blazing speed and seamless management securing high-end data and getting your business digitally prepared to flourish in the rapidly growing technology-adapted economy.
Contact Us