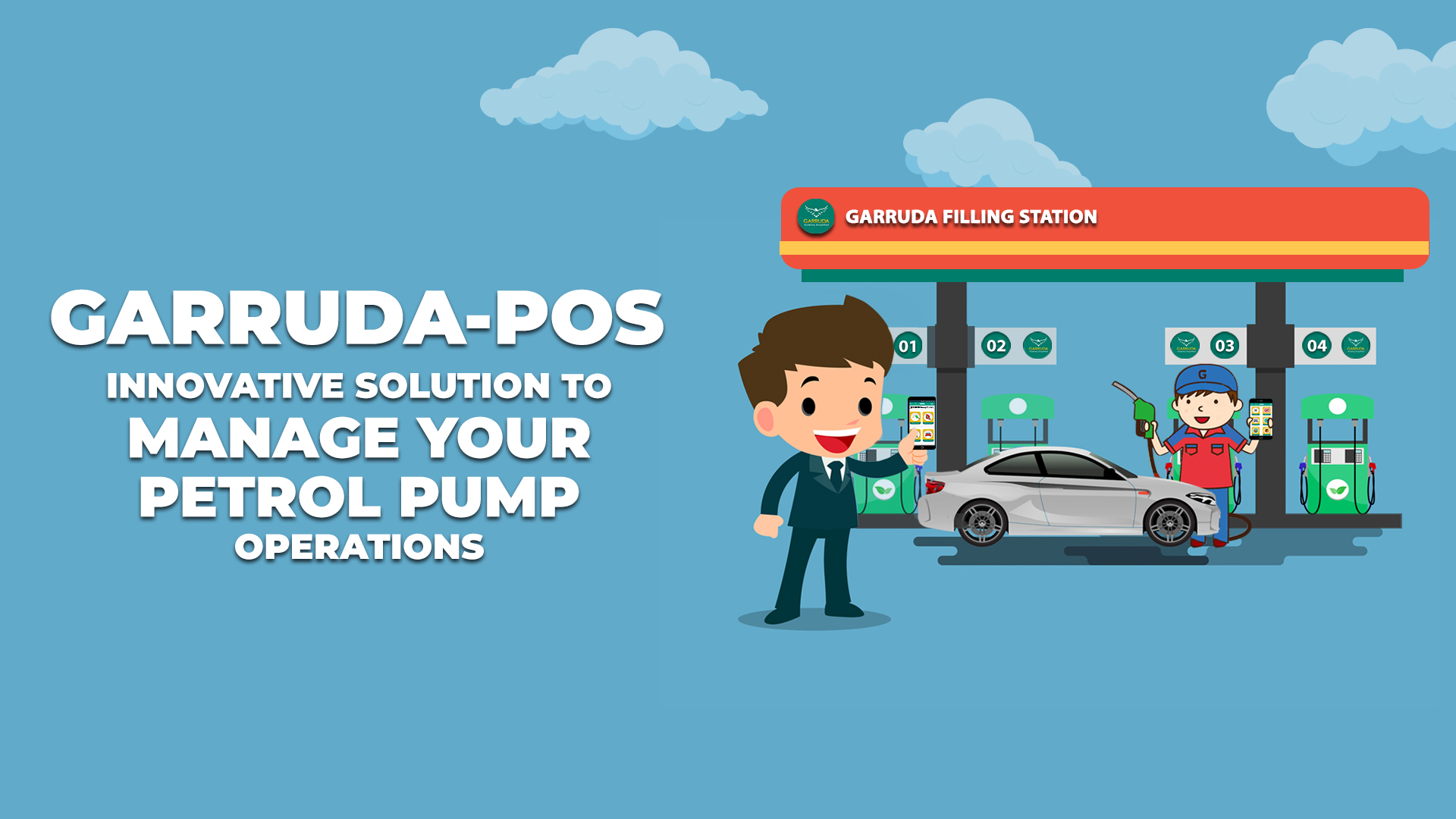 6 Features to look for the best petrol pump management software
Choose the best Petrol Pump management Software. You will not come across a single petrol pump station that can't be benefited by the Petrol Pump Management Software. A petrol pump needs help to make automatic execution of certain tasks possible like automatic report generation, billing & accounting etc. Starting from the back office work to inventory management, cash flow information, financial reports, a petrol pump management software delivers benefits to all the departments.
We are the providers of customized Petrol Pump Management Software in the market.
GARUUDA POS- SINGLE SOLUTION FOR ALL TYPES OF PETROL PUMP OPERATIONS
WHY CHOOSE GARRUDA?
100% Confidentiality & Data Security
Quick Support
User Friendly Operations
Assured client satisfaction
Price Worthy
Timely Updates
SALIENT FEATURES OF GARRUDA:
Inventory Control
Financial Reports
Customer Credit Management
Employee Management
Bill & Accounting
SMS & Email Facility
INVENTORY CONTROL:
The solid maintenance of stock and regular growth of sales is of utmost importance for the functional efficiency of any petrol pump business. With the help of Garruda POS, you can know the position of:
Stock Status quantity wise
Stock Status value wise
Stock Reports display shelf wise.
Stock purchase and sales.
Stock Valuation.
Daily Sale Reg – Nozzle wise or Dip wise maintenance.
Stock Inspection Auto Calculated.
Periodic Purchase Reg./Sale Reg.
Lubes & Others management
FINANCIAL REPORTS:
Automatic report generation on customer name, purchase, sales, stock and other parameters can be achieved with the Garruda Petrol Pump Management Software.
Garruda POS helps you in saving time by generating readily available reports.
Vehicle wise Reports, P & L A/c, Balance Sheet.
All Vat/GST Report
Bank Reconciliation Report
Bill wise / Slip wise Outstanding Report
Customer wise credit and recovery reports.
Report for customer's credit, due and recovery history details.
Product wise reports.
Transaction wise and available stock reports.
Expenses reports based on daily and monthly activities.
Cash management handling Cash Transfers between Shit Managers / Pump boys.
EMPLOYEE MANAGEMENT:
A business success is highly dependent on its employees. Garruda Petrol Pump Management Software provides readily available information of:
Staff attendance
Incentive management & Salary Auto Calculation
Daily work reports of employees.
Employee wise product sale and expenses.
Credit and Swipe entries history of employees
BIILLING & ACCOUNTING:
Since, the workforce at Petrol Pump stations has a lot of tasks to manage including invoicing, there is always some room for human error. Errors can also result due to the lack of expertise or technical knowledge. All these issues are resolved with a petrol pump management software which helps in generating invoices, challan information, maintaining the sale/purchase register etc.
Capturing all Credit Sales by Pump boys at the forecourt reduces re-entry efforts by back-office staff thus nullifying errors due to wrong entry
Monthly/Fortnightly/weekly/periodic billing
Consolidated Bill Vehicle & Date wise.
Separate Bill Vehicle wise.
Automatic Bill Generation
Cash & Credit memo printing
READY GST FEATURES:
Garruda POS comes with GST ready features to help user ease with integration of GST in the billing process.
CUSTOMER CREDIT MAINTENANCE:
Powerful management needs a powerful software!
  Credit customers and outstanding dues list
  Vehicle wise dues report generation.
  Outstanding dues recovery
  Auto SMS and email regarding unpaid dues.
  Daily customer' credit history based on product and vehicles.
  Credit impact on the daily sales.
  Recovery management of credits.
  Follow-ups conducted every 15 days for credit dues.
SMS & E-MAIL FACILITY:
Garruda POS is designed with advanced technology by accommodating SMS & e-mail options to bring in more productivity.
A unique concept of GARRUDA POS integrated with Tally is a win-win solution for all.
Contact Us